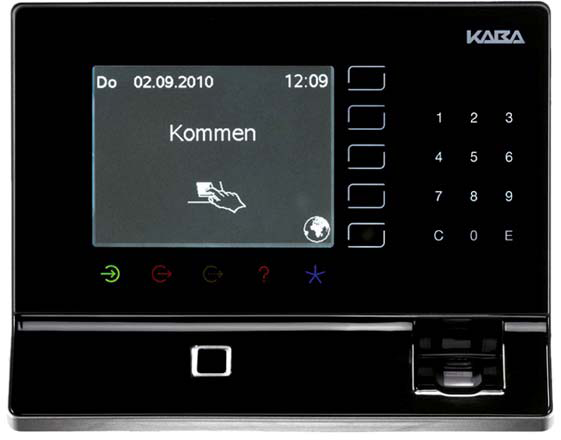 The B-web 93 00 is a time and attendance terminal with state-of-the-art technology. In addition to the time and attendance functions, the terminal can also be usedoptionally for access control, shop floor data collection (SFDC) or project timerecording functions.
The B-Client HR10 device software is used on the B-web 93 00 terminal. Data records of the previous terminal series B-Net are compatible to the data records used in this device.
The terminal software can be updated any time.
In combination with the B-COMM Java communication software, the device offers a new and comfortable concept for setup, exchange, subsequent functional upgrades and device analysis.
To display time data and information, the terminal has a graphic display with aresolution of 320 x 240 pixels (QVGA).
The device has capacitive key fields that are operated by touching the glass front.
Time data is entered with a RFID reader or a biometric CBM reader (depending on theversion).
An external reader (e.g. CCD scanner) can optionally be connected.
Communication is generally established via the Ethernet network(10BASE-T/100BASE-TX); as an alternative or option, the device can alsocommunicate via the RS-485 host partyline or GPRS.
Optionally, the terminal has 2 outputs (relays) and 4 digital inputs for controlfunctions. Up to 4 subterminals are supported (option).